On this page, you will find information about HE and liver coma, primarily directed at you if you're a patient, next of kin, decision maker in or in relation to the health care system (The two fact sheets on this page are in Danish).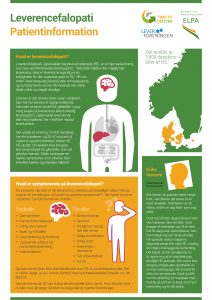 The goal of the information is to encourage early and correct diagnosis, which is a requirement for giving the patient the best possible treatment, and which makes a big difference for all involved parties in a case.
Liver coma, also called hepatic encephalopathy (HE), is a serious complication in liver cirrhosis. Approximately 9,500 Danes live with liver cirrhosis and upwards of 40% of them, 3,800 people, are estimated to develop HE. The condition is overlooked by the health care system far too often, because the symptoms, that include both confusion and personality changes, are often attributed to other causes.
HE happens when the liver isn't able to remove toxicity from the blood. The toxicity will eventually reach the brain, which will cause a number of symptoms that affect both the patient's physical and psychological state. Examples of symptoms could be poor memory, poor judgement, poor coordination ability and bad breath.
In cooperation with the European Liver Patients Association (ELPA), the Danish Liver Association has made information brochures about HE. The material is split into two parts – a Danish patient information guide and a fact sheet about HE in Denmark – these can be seen and downloaded from the links below.
Patient brochure about HE and liver coma
For patients and next of kin. Download the brochure or read more here about what HE and liver coma is, which symptoms can arise and how they are treated.
Fact sheet about HE and liver coma in Denmark
Download the fact sheet or read more about the consequences of HE and liver coma for the patients, next of kin and society. We'll give recommendations for how decision makers, healthcare workers and patient associations can improve the outcomes for patients. The three most important hindrances to better treatment are explained.
The pharmaceutical company Norgine has supported ELPAS and the Danish Liver Association's work financially in order to make these brochures.